Distributors, bookstores and libraries
Distributors, bookstores and libraries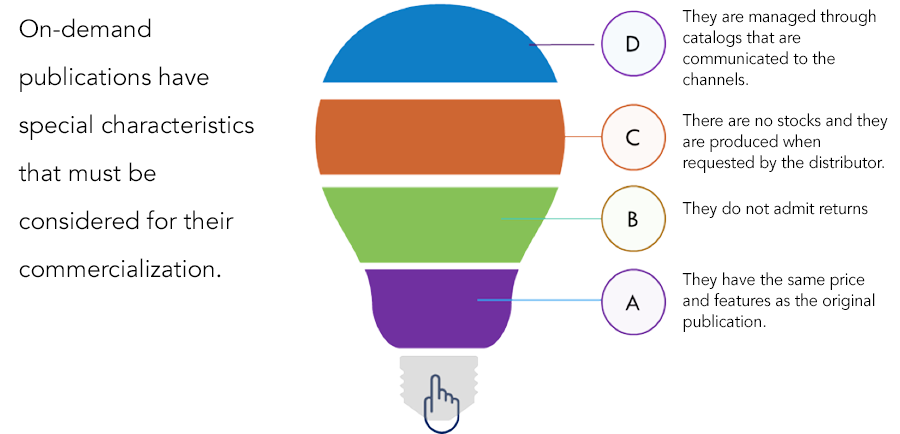 What is Distribution on Demand?
The Milibroimpreso.com platform has developed a technological solution that allows distributors, bookstores, and libraries to be directly and conveniently connected to a wide publishing catalog that does not stop growing. Any interesting bookstore, library, or distributor can access the platform and generate their order. Thanks to this tool they can order from any publisher whenever they need it, also having short-term shipments that guarantee as fast and efficient delivery.
On-demand distribution is a model that allows serving copies in the very short term, thus giving a quick response to the mode of consumption that currently persists in the market. In this way, the distributor, bookstore, or library that presents the catalog, ensures the reception of the book for the reader in a reduced time. This guarantee allows the channel to work safely and to be able to manage all the requests that are presented to them. In this way, channels are offered the possibility of managing their orders and accessing those publications that previously seemed difficult to acquire. Milibroimpreso.com contributes and keeps the catalogs constantly updated to incorporate into the channel those books that publishers are adding. In addition, it introduces the technology that allows managing the reception of books, production, and logistics to the channel warehouse. Publications produced on demand are manufactured copy by copy and are firm orders.
The books on demand have the same characteristics as the original publications, respecting the type of paper, format, laminate, and flaps if presented. There are only some limitations in the finish, not being able to be hardcover, nor sewn. Dust jackets and gloss reserved covers are also not supported.
On-demand distribution is compatible with traditional distribution. The titles that are usually placed in the on-demand distribution service are those books with a very low turnover, however, in recent years the publisher has also decided to place those publications that are sold at certain times and that generate production peaks. This modality is perfect for not breaking the stock.
The distributor, bookstore, or library that wants to access the catalog of publishers with which Milibroimpreso.com connects will be able to register and enjoy having an online business in more than 6 countries:
How to register?
Record. To register on the platform, go to the contact form, complete all the fields and select your profile (distributor, library, or bookstore). Once the information is completed and received, we will send you a username and password to access the private area.
Download catalog. Once the registration has been confirmed and with access to the platform, you will be able to download the catalog in Onix or CSV format to manage it internally or upload it to your site.
Order online. With the username and password, you can access your private area where you can consult and order online for all the news, the catalog is updated at all times virtually. The books requested will be produced and sent under the conditions agreed through the distribution contract signed with Myprintedbook.com